Filmography (2009 - 2007)
[2012 - 2010], [2009 - 2007], [2006 - 2005], [2004 - 2003], [2002 - 2001], [2000 - 1999], [1998 - 1996], [1995 - 1994], [1993 - 1990].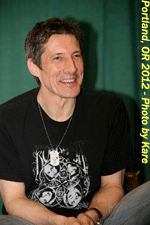 2009 TV series Holby City, "Just a Perfect Day"
In the bittersweet "Just a Perfect Day" Peter reprises his role as surgeon Dan Clifford in the last episode in which trainee registrar Maddie Young appears. While it was good to see Peter playing the part of the talented consultant again, it was also sad to see Nadine Lewington departing the Holby City ensemble. The dynamic between Peter's character and Nadine's was eminently watchable. BBC
2009 TV series 24, "Hours 2-6"
24 is a popular espionage series starring Kiefer Sutherland as Special Agent, Jack Bauer, of the fictional CTU (Counter Terrorist Unit). An action thriller filmed in "real time", i.e each episode represents an hour of time passing during the twenty-four hours of the sesaon's "one day" story.

24 is known for its plots incorporating "greater good" situations where the decision to sacrifice some people for a larger number of people are debated. Controversy also surrounds the shows use of torture as an interrogation technique.

Peter appears in episodes two through six of the seventh season. In the first six seasons the setting and action on 24 takes place predominately in the Los Angeles unit of CTU. But in season seven CTU has been disbanded, and Jack Bauer has been taken to Washington D.C. to testify before a Senate investigation of the discredited agency.

Bauer is quickly hi-jacked by the FBI to help them with the latest terrorist threat. Soon finding himself in a jam he receives help from former CTU Director Bill Buchanan, played by James Morrison, and CTU computer wiz Chloe O'Brian, played by Mary Lynn Rajskub, who have set up a three-person underground unit to uncover traitors at the highest levels of government.

Peter's character, David Emerson, is a former British agent turned mercenary, now working to help a military leader in his attempt to take over an African nation. Bauer is led to Emerson by the third member of the underground CTU renegades, the formerly thought deceased agent, Tony Almeida, played by Carlos Bernard. Emerson apparently saved Almeida's life and rescued him from CTU during the fifth season. Since then Emerson has molded Almeida into his band of mercenaries. Almeida is conflicted about turning against Emerson, but he goes with the winner, and Jack Bauer is always the winner. Fox Network.
2009 TV series The Sanctuary "Revelations, Part 1 & 2"
The Sanctuary, filmed in Vancouver, is a ground-breaking series originally developed to be released on the internet. It is frequently filmed against a green screen with a RED camera (a high definition digital camera) and computer generated graphics are extensively used.

The sanctuary is an institution and safe haven for individuals called abnormals who must live in secret because their physical nature would be considered monstrous by the outside world. Dr Helen Magnus, played by Amanda Tapping, is the head of the North American sanctuary.

In the last two episodes of the first season Peter plays the genuis, Dr. James Watson, one of the original of "The Five" and the head of a sanctuary located in London. "The Five" were a group of researchers who took vampire blood in the 19th century gaining long life. Watson is claimed to be the inspiration for Sherlock Holmes. He and the other original "Five" or their descendants gather to help Dr. Magnus search for a cure to a pathogen threatening the lives and sanity of the abnormals. SciFi Network
2008 DVD release Highlander "Reunion"
In 2008, Peter reprised his favorite role as Highlander's Methos in an arc of scenes written by David Abramowitz, and co-starring Jim Byrnes as Joe Dawson, and Elizabeth Gracen as Amanda. An exploration of what might have been between old friends, the story follows a special day in the life of the oldest immortal, set ten years after the end of series in his beautiful beach home. Made for DVD release by Davis-Panzer.
2008 TV series Men in Trees "Read Between the Minds"
Men in Trees is a comedy drama series filmed in Vancouver. The setting is Alaska and the characters are quirky in the style of Northern Exposure. Peter's character is a doctor named John. He sometimes volunteers for the ambulance service to get back in touch with patient care which he misses in his current research job. He meets Sara, a med-tech, on an ambulance call to a child with breathing difficulty. By the end of the evening John was impressed enough with Sara that he offered her a job. Of course, he does not yet know that she was once a hooker. ABC
2007 Movie aired on TV The Source
The Source is the fifth Highlander movie. The story is set in a dystopian near future. Duncan MacLeod is married but separated from a woman who wants to have children. Meanwhile a group of Immortals including Methos, reprised by Peter, search for the source of immortality. The Guardian of this "source" appears on the scene and begins eliminating the immortals searching for the source. Methos asks an old friend and member of the former Watcher organization, Joe Dawson, to find MacLeod to help stop the guardian. MacLeod's wife reappears telling him about her dreams of a source. Aired on the SCI FI channel.

2007 Movie The Last Sin Eater
The Last Sin Eater, a movie based on a novel by Francine Rivers and directed by Michael Landon Jr., was filmed in Utah. The story is set in a small Welsh settlement in the Appalachian Mountains circa 1850. Very isolated from the outside world, the settlers turn to a traditional funeral practice during a time of crises. Peter's role is that of the Sin Eater, a man chosen to take into himself the sins of those who have died so they may enter heaven. Living as a hermit and outcast, the Sin Eater survives alone for decades until a young girl, Cadi, seeks him out in her quest to find redemption from the emotional burden she carries. FoxFaith Movies.