Filmography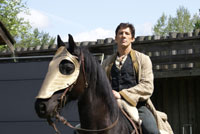 Peter - Riverworld
Peter has played a wide range of roles since his first acting job in 1990 and we have so many entries that we decided to divide the filmography into sections: [2012 - 2010], [2009 - 2007], [2006 - 2005], [2004 - 2003], [2002 - 2001], [2000 - 1999], [1998 - 1996], [1995 - 1994], [1993 - 1990].

You can find out more details about many of the movies and shows listed in the filmography by doing a search on The Internet Movie Database (IMDb) and on TV.com. Rerun dates for some of the recent TV episodes can be found by searching TV-Now or TV Guide Online (in the U.S.). If you live in Australia and are looking for first-run or rerun dates try Foxtel and TV.guide.

The PWFC has an email notification list for information on Peter's career. The list is for announcements only (not a discussion list) and includes topics such as Peter's new jobs, upcoming movie releases, television appearances and appearances at conventions. These emails are of interest to all fans and does not require membership in the fan club. If you're interested, sign up under WingfieldNews at Yahoo! Groups.
2012 Animated FilmWar of the Worlds: Goliath
An animated sequel to H. G. Wells' War of the Worlds that was drawn and first released in Malaysia. In this streampunk style film the Martians have returned in 1914 to invade Earth again, spurring the resistance fighters into battle action. Peter voices the hero, Eric Wells, who leads the Goliath Squad against the 80 foot tall tripods. His team fight the invaders with weapons developed from Martian tech from the first invasion. In addition to Peter, several other Highlander veterans voice characters in this film including Jim Brynes, Elizabeth Gracen and Adrian Paul. Written by David Abramowitz and Joe Pearson. Directed by Joe Pearson. Drawn in Malaysia for Tripod Entertainment. http://wotw-goliath.com/
2011 Digital Film JumpRopeSprint
This film is about a serial dreamer's dream to create a new competitive track and field sport, the 100 meter JumpRopeSprint. Peter's role is the promoter in the slick suit, Dan Smullie. Directed by Stephen Ihli, and produced by Eric Small. http://jumpropesprint.com/
2011 TV series Sanctuary, "Tempus"
Peter's fifth appearance in Sanctuary as detective James Watson takes place in London of their past where Helen has chased after Adam in an attempt to stop him from changing that past, and their path in history. James aids both the Helen of the 1800's search for Jack the Ripper, while also helping Helen from the future protect their timeline from disruption. Written by Damian Kindler. Directed by Martin Wood. SyFy
2011 TV series Alphas, "Bill and Gary's Excellent Adventure"
Alphas is a science fiction drama about individuals with above normal abilities known as alphas. The series is centered around a group of five alphas working to stop those who use their gifts to commit crimes. In the episode "Bill and Gary's Excellent Adventure" Peter's character is the distraught father of a kidnapped college student being held for ransom by a drug cartel. SyFy
2011 TV series Sanctuary "Normandy"
Returning to Sanctuary, Peter again plays Dr. James Watson who with Dr. Magnus and French freedom fighters struggle against the German invasion of France, while dealing with abnormals during one of the most momentous points of WWII. SyFy
2011 TV series Endgame, "Huxley, We Have A Problem"
Endgame is a Canadian television drama series centered around, Arkady Balagan, an agoraphobic Russian chess player who solves crime puzzles without leaving the Hotel in which he is living in Vancouver, BC. In the episode "Huxley, We have A Problem" Peter portrays Oleg Olesky, long time friend of Arkady. Oleg, a loud, lusty, genial Cosmonaut visits his friend at the hotel and soon finds himself in need of Arkady's crime solving skills. The story line deals with the birth of the space orbiting tourist trade. Showcase.
2011 TV series CSI: Miami, "Match Made in Hell"
In this episode the Miami CSI unit investigates the gruesome death of a millionaire in his swimming pool. Peter's guest role is that of antagonist Paul Nichols, head of a match making service. The owners of two rival agencies and the girlfriend of the deceased are all under suspicion during the investigation. Note to parents -- graphic gore throughout episode. CBS TV
2010 TV movie Stonehenge Apocalypse
In this made for television movie, Peter's character is Dr. John Trousdale, the lead scientist attempting to understand and control a network of electromagnetic pulses creating a series of seismic and volcanic events apparently originating from Stonehenge. A race is on to understand and stop the increasing cataclysm before the military strikes the ancient monument with a nuclear missile, possibly destroying the planet. SyFy
2010 TV series Sanctuary "For King and Country"
In this episode of Sanctuary, Peter reprises the role of Dr. James Watson in flashbacks to "The Five's" years at Oxford and the secret research that circuitously leads over great time to today's crisis involving the return of Adam, a dangerous Jekyll/Hyde character and new peril for Dr Magnus. SyFy
2010 TV series NCIS: Los Angeles, "Burned"
NCIS: LA is the Los Angeles spin off the Navy crime investigation series. In this episode agent Callen's cover is compromised so that he must remain out "in the cold" and unable to help, while his team's ability to respond is crippled by a viral attack on their computer system. Peter plays antagonist Eugene Keelson, again using a south London accent. Keelson tempts the agent with information of Callen's past. CBS TV
2010 Web series 10,000 Days, 12 episodes
10,000 Days is an independently produced Web series about a post apocalyptic Earth that has been plunged into an ice age, where the remaining humans struggle amidst the frozen environment, and with each other for survival. Peter portrays, Remy Farnwell, the steely leader of one the families. His anger stems from conflict between the survivors going back to his father's time in the early post comet strike period. The conflict in this series is derived from the acrimony between the surviving clans and the now hostile Earth. Created and directed by Eric Small. http://10kdays.tv/
2010 TV miniseries Riverworld
Riverworld, an adaptation of Philip Jose Farmer's novels, explores a world where all the human beings that have lived and died on Earth are brought back to life by an alien race for unknown purposes. Human beings reanimate on the banks of a long river on a new planet. This interesting story vehicle, which has been filmed before, allows the bringing together of historical characters from different time periods. Peter portrays explorer Richard Burton.

A carefully crafted and entertaining adaptation, it should be noted by fans of the book series that the Burton character has been transformed from the main protagonist in the first book into the antagonist. SyFy TV
2010 TV series Caprica, multiple episodes
Caprica, a prequel to Battlestar Galactica, explores the time period fifty years prior to the cylon attack on Caprica City, which leads to the exodus chronicled in BSG. The story line of Caprica follows the history of the people closely involved or associated with the development of the robotics leading to the advent and rise of the cylons. Peter's reoccurring role in this series is that of law officer, Director Gara Singh, who is high enough up the foodchain that his position has a political flavor. SyFy and Space TV.
2010 TV series Human Target, "Corner Man"
The Human Target television series follows the adventures of a quirky team of bodyguards who protect clients threatened by extremely dangerous enemies. Peter's guest character, Hugh Prentiss, ("the shrewdest gambler alive") is out to kill the boxer who failed to throw a fight. Peter's accent in this one is very interesting, a bit of the rough side of London, nicely adding to the depth of this antagonist. Fox TV.