Filmography (2004 - 2003)
[2012 - 2010], [2009 - 2007], [2006 - 2005], [2004 - 2003], [2002 - 2001], [2000 - 1999], [1998 - 1996], [1995 - 1994], [1993 - 1990]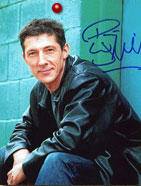 2004 movie Superbabies—Baby Geniuses 2
A movie for young children in which Peter plays the role of Harris Crowe the chief flunky of the bad guy Bill Biscane, played by Jon Voight. A campy romp where the super babies save the world from television brainwashing. Directed by Bob Clark. Triumph Films. This movie was filmed in 2001 but released in 2004.
2004 movie Catwoman
The movie adaptation of the comic book starring Halle Berry as a sassy Catwoman and Benjamin Bratt as the cop out to catch her (while becoming involved with her alter ego Patience). Sharon Stone plays her nemesis. Peter has a small role as the scientist, Dr. Slavicky, whose words set off Patience's adventure. He tries to block the release of a dangerous beauty product, which Patience happens to hear. When she is discovered by the bad guys her old life ends as she becomes the feline crime fighter. Directed by Pitof. Warner Brothers.
2004 TV pilot Cooking Lessons
Peter portrayed Harry Shipman in the never-aired television pilot Cooking Lessons, which was directed by Ivan Reitman for Warner Bros.
2004 TV series The Shields' Stories "Various Miracles"
One of six teleplays adapted from Carol Shields' short stories, "Various Miracles" was directed by Mina Shum. Camilla, a novelist inspired by the sight of a falling pear to write a two hundred page manuscript in a three week burst of creativity is reluctant to make the changes her editor requests to her story. Peter's character is Hamish Scott, a film director, and Camilla's boyfriend. Hamish is trying to cast an idealistic young woman in a movie role when Camilla visits the casting session and hears the actress reading for a part. The novelist has an epiphany to remain true to her artistic vision while listening to the thespian speak. W Network, Canada.
2004 TV series Kingdom Hospital "Heartless"
Kingdom Hospital is a horror miniseries developed by Stephen King that he based on the Danish miniseries Riget. One hundred and fifty-five years ago the site where Kingdom Hospital stands was the scene of a terrible mill fire. Many children died then, and now they haunt the premises. Peter was a brief part in episode eight, "Heartless", in which he portrays billionaire Benton Knight. Though it is interesting watching Peter assume the mantel of wealth, we find once more that money does not lead you to nirvana. Even if his character's computer screen saver claims: whoever said money can't buy happiness, didn't know where to shop.
2004 TV series Touching Evil "Justine"
Touching Evil, an American adaptation of a British series, focuses on a criminal investigator, agent Creegan, who has recovered from a bullet wound to the head. Coping with his brain damage is central to the series. Peter appears in the first three episodes, though the majority of his camera time is found in number three, "Justine," where he shines. He plays agent John Krakauer, the heart broken father of a brain dead new born baby, deeply conflicted with his work, and out of control. In "Justine" Creegan realizes that Krakauer has executed a child molester/murderer. Peter gives us an excellent portrait of an emotionally damaged man. USA
2004 TV series Bliss "Tying Up Gerald"
Peter's second appearance in Bliss, this time with director Mina Shaum. Peter's Gerald is a married man who has kept his therapeutic need for bondage from his wife until the day she walks in on him and his dominatrix in the middle of a session. Shocked, at first she is repelled by Gerald's unfamiliar needs. But instead of leaving him, she decides to become what he needs—despite his resistance to her taking on this role. Canadian Showtime.
2004 TV series Andromeda "The Others"
In "The Others" Peter's character General Lach has been chasing through space his enemy Zara, the leader of the people that are at war with his own, back on their decimated planet. They have fought nearly to the death, before being rescued from their damaged and drifting spacecrafts by the crew of the Andromeda. Loch and his people suffer from a disease they believe was created by Zara's people. Their planet has been at war throughout their recorded history. Few people survive. The crew of the Andromeda seeks a cure for the disease when their captain is infected with the deadly malady. WB, WGN, Fox TV.
2003 movie X2: X-Men United
Peter has a small role in this action packed sequel to the successful comic book adaptation, X-Men. He plays a soldier, Sgt. Lyman, the assault weapon brandishing main henchman of the villain Stryker, played by Brian Cox. The cast includes Hugh Jackman, Patrick Stewart, Halle Berry, Ian McKellen, Alan Cumming, and many more. Directed by Bryan Singer. 20th Century Fox.
2003 TV series John Doe "Doe or Die"
In this episode of John Doe Peter plays an angry former policeman, Ken Rothman, now the leader of a gang that invades his former police station. He is seeking revenge against Lt. Avery, whom he believes turned him over to Internal Affairs, by taking over her police station and making unrealistic demands, while threatening the hostages with smallpox. Is he an extortionist, a terrorist, or a madman? Fox TV.
2003 TV series The Dead Zone "Cabin Pressure"
Peter portrays Captain Michael Klein, the pilot of an airplane with psychic Johnny Smith on board. Smith touches a flight attendant and sees the first of several plane crash visions. Captain Klein is much too pragmatic to believe in psychics. The audience is kept guessing about the nature of the threat. Watching this program if you are planning to fly soon is likely to rattle you. USA Network.