Filmography (1998 - 1996)
[2012 - 2010], [2009 - 2007], [2006 - 2005], [2004 - 2003], [2002 - 2001], [2000 - 1999], [1998 - 1996], [1995 - 1994], [1993 - 1990]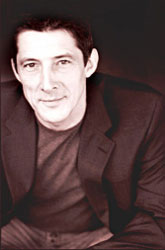 1998-1999 TV series Cold Squad
(15 episodes)
A Canadian police drama about a squad that works old cases. Peter played the ambitious inspector Simon Ross, brought in to liven up the department. CTV.
1998 TV series Viper "About Face"
Peter portrayed Giles Seton, a crooked engineer who designed the viper complex and now wants to steal the defender car. Having kidnapped Cole, he replaces him with a surgically altered duplicate who becomes difficult to control. Pet Fly/Paramount.
1998 TV series The Sentinel "Foreign Exchange"
Peter played the bad guy, Scott Brunell, with an Aussie accent. Peter only had a few lines, and the character is kept at a distance. Pet Fly/Paramount. Now on Sci Fi channel.
1997 TV series Noah's Ark: Series One
(6 episodes)
In this series about veterinarian Noah Kirby, Peter portrays his son Tom, also a vet. Tom resists joining Noah's practice, but helps for a time. Lots of father and son conflict, and animals. Carlton TV.
1996 TV series Murder Most Horrid "A Life or Death Operation"
In this episode Dawn French is a doctor who is trying to kill the wife of a patient who died in her care because the wife won't keep quiet, which will spoil French's new gig as a TV doctor. Peter plays another young doctor who gets in her way in this funny program. BBC TV.
1996 Radio If You're So Clever, Why Aren't You Rich?
Peter did two voices: Mark, a casting agent, and Barry, a character from the TV series Nice Day at the Office. In this program Barry talks the lead female character into doing phone sex. BBC radio 4.