Filmography (2006 - 2005)
[2012 - 2010], [2009 - 2007], [2006 - 2005], [2004 - 2003], [2002 - 2001], [2000 - 1999], [1998 - 1996], [1995 - 1994], [1993 - 1990]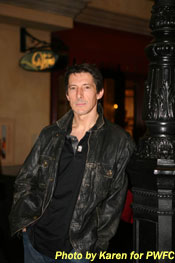 2006 TV series Holby City
In the fall of 2006 Peter joined the cast of Holby City, a long running hospital drama filmed in London. His character, General Surgical Consultant Daniel Clifford, arrives suddenly, takes charge and shakes up the status quo with his high energy surgical style and arrogant "suffer-no-fools" demeanor. A man of contradictions, Mr. Clifford is demanding of staff while compassionate to patients; a skillful surgeon with a tattered personal life. Suspicion abounds when this mystery man appears in their midst. What is his agenda and what is he hiding? BBC One.
2006 TV series The L Word "Legend In the Making"
Peter reprised his role as Whit Strobel for episode #E401-08 (see below). Directed by John Stockwell. Showtime.
2006 TV pilot The Hunters
Peter played James Pantell in the never-aired pilot The Hunters, which was filmed in Vancouver and Directed by Bharat Nalluri for Disney.
2006 TV series Daziel and Pascoe "Wrong Time, Wrong Place"
In this two-part episode of Daziel and Pascoe the detectives attend a law enforcement convention in Amsterdam where they become embroiled in a complex plot of murder, diamond trafficking, culture clash, professional posturing and revenge. Peter plays Dave Simmonds, a British Consulate senior police and security attaché with information the detectives need to solve the murder that Andrew Daziel is accused of committing. Written by Stan Hey and directed by Warren Clarke (Dalziel). BBC.
2006 Movie The Lazarus Child
A desperate family with a daughter in a coma use a treatment of arguable medical value in an attempt to bring her out of the coma. Her depressed brother is the key to the treatment. Directed by Graham Theakston, written by Ronald Bass and starring Andy Garcia. Peter plays a banker. Filmed in Alberta. Eagle Pictures, Warner Bros.
2006 TV series Medium "Twice Upon a Time"
Medium is based on the life of a real psychic who assists law officers in solving crimes. In this series the medium is Allison Dubois, played by Patricia Arquette, who works for the district attorney's office in Phoenix and helps by interpreting her death dreams. In this episode Peter portrays Sean Redburn, whom the district attorney is prosecuting for murder. This time Allison's normally precognitive dreams lead her down a "what if" path. Instead of being married to her husband, Joe, and having three daughters, she is married to an old flame and has become a high-profile defense lawyer who is Redburn's attorney. NBC.
2006 TV series Charmed "The Jung and The Restless"
In one of the final episodes of Charmed, "The Jung and The Restless", Peter portrayed a Darklighter called Salek who briefly used and abused a ward of Paige's to get to the Charmed one. Written by Cameron Litvack and directed by Derek Johansen. WB television.
2006 TV series The L Word "Losing the Light"
An American drama, The L Word is a series with a large ensemble cast and intertwined plot lines. In the third season episode "Losing the Light" Peter portrays lawyer Whit Strobel in one of the plot threads. He defends Helena Peabody in a civil lawsuit brought by a former lover, charging her with sexual harassment. Showtime.
2006 TV series The Collector "The Watchmaker"
A Canadian television series, The Collector is a modern supernatural drama. The main character Morgan Pym, played by Chris Kramer, was a 14th century monk who made a deal with the devil. Today he lives in Vancouver, BC and is charged with collecting souls for the devil. The devil appears to Morgan in a variety of disguises, including a Catholic schoolgirl in "The Watchmaker." Because it amuses the devil, he has agreed to allow Morgan a chance to help redeem the souls of the damned during their last 48 hours. In this episode, Peter portrays the watchmaker, Maurice Jeanrichard, who traded his soul for immortality. It is a peculiar immortality, the standard ten years the devil allows stretched out by the watchmaker stepping out of time frequently over the last two hundred years. When Maurice does appear he rushes about in a frenzy of activity before disappearing again. Morgan attempts to connect the watchmaker with the descendants from his time period to heal a rift his disappearance caused. City TV.
2005 TV movie Miss Texas
Miss Texas is a two-part program that was filmed for German television in Kamloops, Canada. It is the story of photojournalist Katharina Fahike of Berlin (played by Natalia Wörner) who travels to Texas to shoot pictures of cowboys. Peter plays Jack Clooney, a suave Texas rancher and old love interest of Katharina's best friend. Peter's dialog is dubbed into German. Directed by Ute Weiland.
2005 TV series Smallville "Lucy"
Smallville is a television series about the pre-Superman growing years of Clark Kent. In "Lucy" Lois Lane's kid sister arrives at the Clark home seeking a safe haven from a European loan shark hunting her. Character conflict between the siblings includes the honor of which of them was least loved by their father. Peter is the antagonist, Marcus Becker, chasing Lucy in a variety of bad guy action modes including down hill skiing, masquerading as a law officer, and semi-truck driving. But alas, Clark Kent, with the help of Lex Luther, wins the day again. Warner Brothers.