Filmography (2000 - 1999)
[2012 - 2010], [2009 - 2007], [2006 - 2005], [2004 - 2003], [2002 - 2001], [2000 - 1999], [1998 - 1996], [1995 - 1994], [1993 - 1990]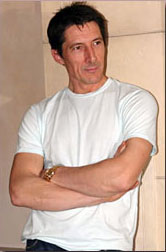 2000-2001 TV series Queen of Swords
(10 episodes)
Filmed in Spain. Setting is southern California during the Spanish settlement period. As Dr. Robert Helm, Peter was a regular in this female Zorro type fantasy. Helm is a former military officer who has turned to medicine in an apparent attempt to redeem himself. Valentine Pelka, Highlander's Kronos, played the antagonist. Syndication.
2000-2002 TV series Stargate SG-1 "Crossroads," "Exodus," "Between Two Fires"
The "stargates" in this series are ancient portals used to travel to distant planets, encounter aliens, and meddle in their affairs. Peter plays Hebron/Tanith in several Stargate episodes. Hebron is the Tok'ra host for the Goa'uld symbiote Tanith. During this arc Tanith claims to be a friend. Showtime.
2000 TV movie The Man Who Used to be Me
(Titled Race Through Time in the UK)
After a policeman sneaks into a time machine to save his father's life, Peter's character, Mark Mason, allows the man to stay in the past despite the danger, because he believes it will further his time machine research. Fox Family.
2000 movie Endgame
The fourth Highlander movie. Peter again plays Methos, the world's oldest immortal. In this feature film Methos and Joe Dawson (Jim Byrnes) help Duncan MacLeod (Adrian Paul) escape the Watcher Sanctuary. Unfortunately this doesn't take very long. Dimension Films.
2000 TV series The Outer Limits "The Beholder"
A man undergoes an operation to regain his eye sight, and wakes able to see an alien woman who is invisible to everyone else. Peter plays Dwight Borden, the man from the drug company. Showtime.
2000 TV series First Wave "Shadowland"
Cade Foster, played by Sebastian Spence, battles the Gua, an alien race set on dominating Earth. In "Shadowland" Cade undergoes regression therapy to explain the strange images he is experiencing. Peter appears in the flashbacks as the Gua, Dr. Rook, who apparently interrogated Cade in the past. Jim Byrnes played the therapist. Sci Fi Channel.
1999 TV series Cold Feet "Strange Loves of Shelley Bumstead", "An Affair to Dismember"
Peter played best selling author Conrad Gordon in two episodes of Cold Feet, but only "Strange Loves of Shelly Bumstead" aired before the program was cancelled. The regular character Shelley Bumstead is attracted to Gordon's photo on his book cover, and fantasizes about the author. NBC.
1999 TV series Strange World "Skin," "Man Plus," "Age of Reason"
Strange World was a well done, but short lived series in which ethically questionable science was investigated by the ailing Dr. Paul Turner. In three episodes Peter played Dr. Terrance Shephard who ingratiates himself to Turner's girlfriend and doctor, Sidney. Is he for real, or another scientist playing god? ABC, later Sci Fi.
1999 documentary film The Damn Deal
A documentary by Elizabeth Gracen (Highlander's Amanda) about the lives of contestants in a drag queen pageant. Peter plays a female psychiatrist, Dr. Pat Haig, who is interviewed by Gracen, interspersed through out the film. Independent.
1999 theatre Waiting for Lefty (single performance)
Peter played American cab drivers Joe Mitchell and Sid Philips. Playwright Clifford Odets. Lyttelton Theatre, London.