FAQs about PWFC and Peter
Membership Information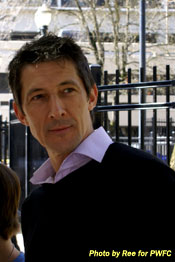 As of November 1, 2012, the PWFC is a free club to any fans of Peter Wingfield. We do ask that you register to become a member to be included on the mailing list and receive benefits only available to club members. These benefits include access to the Members Only area where you will find the following:
— New issues of LFT in PDF and rich text format
— Exclusive club photos
— Video clips from PWFC conventions
— Peter's PWFC diary clips
— Downloadable biography and Filmography
— Other items as they come to mind
(Our mailing list is set up through MailChimp to give you control to easily change your mailing address, email address or to unsubscribe. We value your privacy and will not share any information entered to subscribe with anyone else. The only required field is your email address.)
Voluntary Donation to the PWFC
Since we no longer are charging for membership, the club will not have any income to maintain the web site, server, domain names, the club mailbox and any other necessary fees for running the club. Should you wish to donate a small amount to help with these expenses, you may do so through PayPal using the button below or you can send a check, made out to the PWFC to:
PWFC
PMB 245
8175 S. Virginia St. #850
Reno, NV 89511-8981
Donate a small amount to help the club with expenses. All money goes to run the club. We have no paid staff. If we have extra money, it will be spent to help with the fundraising for Project Edan. You can choose the amount you wish to donate when you click the button.